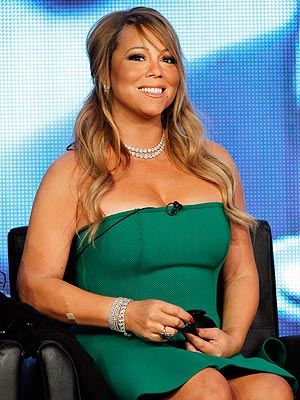 I've been watching American Idol to see what will transpire with Mariah Carey and Niki Minaj and have noticed that Mimi likes to rock a piece of bling with every ensemble. I thought it would be fun to work with an online jeweler, Anjolee to get tips on how to add sparkle to your winter wardrobe. This site is great because they can personalize any piece you come up with! Who doesn't want a piece of jewelry no one else has!?:) Hope you enjoy this sponsored post!:)
There are some people, like myself, who eagerly await the winter season. They love nothing more than to snuggle into bed with hot cocoa in one hand and a good book in the other. And then there are those who want nothing more than to flee the biting cold and follow the sun wherever it may go. Whether you fall into the category of bikini babe or bundled-up beauty, there is one thing we all have in common, we all want to look our best no matter the weather. This season add some sparkle to your winter wardrobe. Who ever said winter has to be limited to scarves and turtlenecks?
This winter warm up your wardrobe with chic gold
bangle bracelets
. Bangles are just the right accessory to turn to, whether you are pairing them up with a sweater dress and boots during the day or with heels and a sexy top for a hot night out. They can transform an outfit from classy to edgy. Not only are they great for every occasion and easy to wear, but they also come in a large variety of styles. If you happen to be a fan of the classic look, then a bracelet with a clean, smooth row of diamonds, like the Classic Prong Set Diamond Bangle, is what you are looking for. On the other hand, if you want more dazzle, then go for a fancier design that is blanketed with rows of diamonds. This season adorn your wrist with a sleek bangle bracelet and you will surely turn any gloomy day into a sunny one.
For a real classic shine,
diamond earrings
are a one of a kind. They are the perfect must-have for your own wardrobe, as well as the perfect gift. These days you can find a wide range of diamond earrings from timeless studs to fashionable and flirty hoops to elegant drop earrings. Diamond studs no longer come in just one style. Now you have the cream of the crop to choose from with styles such as Trillium Diamond Studs, Flower Shaped Cluster Studs, and Quad Block Studs, to name a few. Hoop earrings are another wardrobe staple. Hoops are the perfect way to add some sparkle to your outfit, keeping your look both casual and stylish. And for those special evenings, bring out your exquisite diamond drop earrings, which will surely make heads turn.
The best way to warm up any heart this season is with a
diamond engagement ring
. Right next to the wedding ring, the engagement ring is the most important piece of jewelry you will buy your other half. Make a lasting impression with a beautiful and meaningful ring. This ring should reflect her beauty and your love.
So this winter as you layer up with your coat, scarf, and boots, remember to add some sparkle and excitement to your wardrobe with any of these tasteful pieces.
#spon